Heroic Women of the Art World (Hardcover)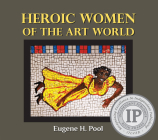 $22.95

Usually Ships in 1-5 Days
Description
---
Other than a scattered few, women have not often been portrayed among the world's great artists, especially in books for young readers. This book begins to correct the omission, with in-depth portraits of fifteen daring women from the Renaissance to the present. Sofonisba Anguissola, the first documented female court painter, painted the queen of Spain. During the Renaissance, artist Artemisia Gentileschi took the man who assaulted her to court and won—then went on to build a career painting strong women from the Bible and mythology. Elisabeth Vigée Le Brun fled the French Revolution and supported her daughter and herself by painting portraits across Europe. Rose Bonheur frequented slaughterhouses to master animal anatomy. Berthe Morisot sold paintings exhibited alongside the Impressionists. Augusta Savage fought racism and poverty to become a leading sculptor. The book also profiles more recent and high profile artists, including Frida Kahlo, Annie Leibovitz, Zaha Hadid, and more. Their stories will inspire girls who want to find a place in the arts and girls who simply seek the courage to make their own voices heard in the world.
About the Author
---
Art historian Eugene Pool taught at two of the nation's most eminent private high schools. He has published poetry, middle-grade fiction, and a previous book on art history.
Praise For…
---
"An art historian profiles women artists who overcame adversity in order to achieve professional success. Some of the most accomplished women in the art world of the past five centuries faced difficulties, great and small, in the pursuit of their crafts. Despite their hardships, the women profiled in this book used their talents and left their marks. Each profile begins with a dramatic moment in the artist's life: meeting a queen, narrowly escaping the guillotine, surviving sexual assault by a teacher, and attending the 1939 New York World's Fair. The role of this seminal experience in the artist's life is then explained as the lens widens to describe the artist's family life, training, style, and impact on the art world. The artists' personal and professional lives are seamlessly entwined, and the personal fortitude of each woman is evident in the details of her story. Images of the artist and her work are included as well. While not everyone covered here triumphed during their lifetime—Augusta Savage stopped making art and lived in poverty, for example—their contributions to the world of art and culture and their examples as daring, passionate creatives are fascinating. The artists portrayed are diverse in ethnicity, nationality, sexuality, and their chosen media. Well-chosen and well-told, these artists' stories will inspire artists and nonartists alike." —Laura Simeon, Kirkus Reviews

"Gr 8 Up–Heroism takes many forms; not all acts of bravery involve battlefields or daring rescues. The artists and art professionals featured in this collection displayed courage in various ways. Each woman overcame challenges to beat formidable odds: sexism, racism, poverty, and homophobia. Several attained success and respect by taking bold, innovative creative risks. One painter took the stand to confront her rapist. A curator and an art detective recovered priceless stolen treasures. The former outsmarted Nazis, and the latter went toe-to-toe with wily thieves. For more than two decades, a conservator painstakingly restored a ruined Leonardo da Vinci masterpiece. Frida Kahlo won international acclaim while living with multiple disabilities and battling severe pain. These fascinating notables, representing different eras (from the Renaissance to the present), nations, ethnicities, and disciplines, are described in 17 brief, well-written, fact-filled chapters. Their stories are relayed in an admiring, conversational tone; clipped sentences promote dramatic, fast-paced reading. Excellent color reproductions of artworks and photos (in the case of historical artists, painted portraits) of the subjects heighten the visual appeal. Colored-background pages, interspersed throughout, also enhance the book's attractiveness. VERDICT Recommended for public and school libraries; while not essential, it would be useful as supplementary biographical fare for strong, mature readers in women's studies and art history classes." —Carol Goldman, School Library Journal 

"Recommended for public and school libraries; while not essential, it would be useful as supplementary biographical fare for strong, mature readers in women's studies and art history classes." —Carol Goldman, formerly at Queens Library, NY 
STOCK AVAILABILITY
The online inventory display is updated every 4 hours. If you wish to check the actual in store stock, please call 337-2681 or 1-800-295-BOOK (2665) during store hours.