Jupiter the Alpha Planet (Hardcover)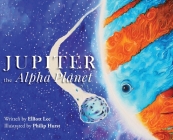 $19.99

Usually Ships in 1-5 Days
Description
---
After the solar system is imperiled by a meteor attack, Jupiter saves the other planets and helps restore order in the galaxy. This is a story of resilience, how when threatened by a bully, those in danger can work together to overcome a problem. It is a story of a heroic rescue, of helping your neighbors, of the restoration of community fractured by unforeseen events. Though sometimes bad things can happen and upset life's balance, normalcy returns and life continues as it was before.
Characters include the Sun, Mercury, Venus, Earth, Mars, Jupiter, the Kuiper Belt, and a mean meteor.
STOCK AVAILABILITY
The online inventory display is updated every 4 hours. If you wish to check the actual in store stock, please call 337-2681 or 1-800-295-BOOK (2665) during store hours.
*Please place your holiday gift orders by December 11th to ensure their timely arrival. Orders placed beyond that date for items that we do not have in stock are unlikely to reach completion before 12/25*