Brian Wildsmith's Animal Gallery (Hardcover)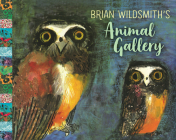 $18.99
Usually Ships in 1-5 Days
Description
---
Discover a troop of kangaroos, an ambush of tigers, a rafter of turkeys, and a flotilla of swordfish in this glorious introduction to the animal kingdom from internationally acclaimed artist Brian Wildsmith.

A lion yawns lazily in the grass. Curious giraffes crane their long necks. Step into this rich world of animals from an extraordinary illustrator whose work influenced generations of younger artists. Each animal's essence is strikingly captured, from the playfulness of otters to a noisy gathering of parrots, while panoramic pictures give a real sense of the animals' habitats. Collective nouns — some familiar, others wonderfully surprising — are used to describe each group of animals. Brian Wildsmith's stunning illustrations will inspire a love of nature and a respect for animals from the earliest age.
About the Author
---
Brian Wildsmith (1930–2016) was a British painter and children's book illustrator known for his vibrant use of color and radiant portrayal of nature. He won the 1962 Kate Greenaway Medal for his alphabet book, ABC.
Praise For…
---
Wildsmith's fans may recognize some of the images from his early books, such as the vibrant illustrations for "a pride of lions," "a leap of leopards," and "a skulk of foxes," which first appeared in his Wild Animals (1967). Their inclusion is this large-format picture book gives a new generation access to the artist's work, which is as powerful, fresh, and distinctive as ever.
—Booklist
STOCK AVAILABILITY
Please note that the website database does not necessarily reflect the in store availability. If you wish to check actual in store stock, please call 337-2681 or 1-800-295-BOOK (2665) during store hours.