Atticus Caticus (Hardcover)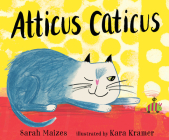 $17.99

Usually Ships in 1-5 Days
Description
---
Follow a young boy's furry friend through the course of a day in an infectiously rhythmic read-aloud for cool cats of any species.

Atticus Caticus,
ears like a bat-tat-ticus!

Snap your fingers to the beat as a boy introduces us to his beloved (and oh-so-recognizably feline) cat. Whether Atticus is lying in the sun or stealing a sip from a water glass, sharpening his nails on a favorite chair or settling in for the night on his boy's head, this cat will win your heart—and maybe inspire you to improvise a few riffs of poetry about your own animal friends.
About the Author
---
Sarah Maizes is an award-winning children's book author and humor writer, as well as the vice president of television at The Jim Henson Company. She lives in Los Angeles with her husband, three kids, and two cats. And yes, one of them is named Atticus.

Kara Kramer has an MFA from the School for Visual Arts in New York. Atticus Caticus is her first picture book. She lives in Brooklyn.
Praise For…
---
What a splendid cat(icus) is Atticus. . . Kramer's energetic illustrations have the look of scribbly colored pencil over block-printed background patterns. Their bright and silly expressiveness is an excellent match for Maizes' rollicking text, which should make for many enjoyable read-alouds. Tongue-twister–y fun celebrating the joys of being owned by a cat.
—Kirkus Reviews (starred review)

Like all feline fans, a young cat owner can't get enough of a self-possessed pet's quirky ways in this book. . . In phrases rendered for maximum expressiveness in a mix of typography and handwriting, the kid begins with "Atticus. Cat-icus. Rat-a-tat-tat-ticus," first beating time on a box drum, then marveling at how the cat "yawns with his whole head.". . . And Atticus proves himself a worthy object of adoration; in fact, he's a performative puss nonpareil, zooming through the house, pouncing on a toy, and chittering to a bright red bird on the window's other side.
—Publishers Weekly

Jaunty verse and rhythmic interludes guide the listener through a day in the life of cat Atticus and his child companion. . . . Jewel-toned digital art blends smooth backgrounds, soft textures, and scribbly details, suggesting that our kid narrator may have illustrated the piece themself, adding appeal and relatability for their intended listeners. Perfect for library storytimes, bedtime reading, and feline friends, this is sure to be a crowd pleaser for audiences young and old.
—The Bulletin of the Center for Children's Books
STOCK AVAILABILITY
The online inventory display is updated every 4 hours. If you wish to check the actual in store stock, please call 337-2681 or 1-800-295-BOOK (2665) during store hours.
*Please place your holiday gift orders by December 11th to ensure their timely arrival. Orders placed beyond that date for items that we do not have in stock are unlikely to reach completion before 12/25*