I'll Go and Come Back (Hardcover)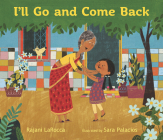 Description
---
A tender, beautifully illustrated story about a girl in America and her grandmother in India, whose love stretches between languages and cultures—and across the world.

When Jyoti visits her grandmother halfway around the world, she is overwhelmed by the differences between India and home. At first she feels lonely and out of place, but soon, despite a language barrier, she and Sita Pati are able to understand each other. They form a bond—looking at books together, making designs with colored sand, shopping at the market, playing games, eating chapatis, and sipping warm milk with saffron to bring sweet dreams. When it's time to part, Jyoti doesn't want to leave, but then she remembers that in Tamil, people don't say goodbye, they say "I'll go and come back." Sure enough, the two reunite the next summer when Pati visits Jyoti in America, and it's Jyoti's turn to make her grandmother feel welcome. Can they create some special memories that will last until the next time they see each other?
About the Author
---
Rajani LaRocca is the author of many books for young readers, including the Newbery Honor Book Red, White, and Whole. She was born in Bangalore, India, and immigrated to the US when she was a baby. She grew up in Louisville, Kentucky, graduated from Harvard with both a BA and an MD, and has worked as a primary care physician since 2001. Rajani LaRocca lives in eastern Massachusetts with her family.


Sara Palacios is the illustrator of many picture books, including My Day with the Panye, written by Tami Charles. She divides her time between San Francisco and Mexico City.
Praise For…
---
Centering a tender grandparent-grandchild relationship, LaRocca (Where Three Oceans Meet) offers an endearing narrator in Jyoti. . . Warmly patterned and textured illustrations by Palacios (A Song of Frutas), rendered in gouache and acrylic and assembled digitally, further conjure the brown-skinned family and rich dual settings. A loving ode to intergenerational relationships and cultural exchange, beyond borders, years, and language barriers.


—Publishers Weekly (starred review)

Based on LaRocca's childhood experiences as an Indian American, the well-cadenced text tells a story of international, intergenerational love. Palacios' digitally assembled illustrations, created with gouache and acrylic paints, are particularly effective in capturing the growing bond between grandmother and child. A vibrant picture book that reads aloud beautifully.
—Booklist

Jyoti and Sita Pati say "I will go and come back" when their visits end, never "Good-bye," in a satisfying story told with great economy. Gouache and acrylic illustrations with the grainy effect of woodcuts and wonderful attention to textile patterns, exude the mutual delight between grandparent and grandchild. . . . A tender sharing of culture and empathy that bridges generations, and an essential purchase.
—School Library Journal

The tender relationship between a grandmother and a grandchild extends beyond distance and language. . . The simple yet heartfelt text makes excellent connections between the fun they have in India and in America. . . A loving depiction of familial connection between generations.
—Kirkus Reviews
STOCK AVAILABILITY
The online inventory display is updated every 4 hours. If you wish to check the actual in store stock, please call 337-2681 or 1-800-295-BOOK (2665) during store hours.
*Please place your holiday gift orders by December 11th to ensure their timely arrival. Orders placed beyond that date for items that we do not have in stock are unlikely to reach completion before 12/25*