Different? Same! (Board book)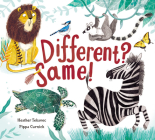 Description
---
This clever picture book introduces the concept of animal characteristics by highlighting how there can be both differences and similarities within a group. For example, the zebra gallops, the bumblebee flies, the lemur leaps and the tiger prowls --- "But look closer now ... We all have STRIPES!" And so it goes. Again and again, readers will be surprised to find that a group of four seemingly different animals all have one trait in common --- whiskers, horns, shells and the like --- for a total of thirteen traits in all. Observant children will notice that one of the animals from each group also appears on the following spread with three new animals that have a different characteristic in common. Finally, all forty of the featured animals are shown together, and readers are asked to search for those with specific characteristics not already covered in the book --- for example, those with spots, those who live in the ocean or those with six or more legs.

Author Heather Tekavec has discovered a fun and interactive approach to helping young children begin to explore the ways animals are classified. Pippa Curnick's playful and engaging illustrations of the animals in their habitats are all scientifically accurate, keeping the experience both enjoyable and informative. The searching activity also works to enhance visual literacy. With a detailed glossary included, this is an ideal book for introducing early lessons on the characteristics of living things and for starting discussions on the ways all creatures are like and unlike one another.
About the Author
---
Heather Tekavec discovered while working as a preschool teacher that children's books were a lot more fun than adult books. In addition to books, Heather enjoys writing short stories, articles and poems for children's magazines, such as CRICKET, Chirp, Highlights and Totline, and has delved a few times into writing scripts and directing live theater. Heather lives in Cloverdale, British Columbia.
Praise For…
---
Little ones will have fun examining the brightly colored, cartoonlike artwork, trying to figure out a common ground beyond obvious features such as mouths and eyes.—Kirkus Reviews

... will delight old and young alike ...—Canadian Children's Book News

This engaging, celebratory paean to animal kingdom traits offers little ones a lively introduction to classification ...—Booklist

Ages two to six will love sharing the unique style of this look and find book.—The Calgary Herald
STOCK AVAILABILITY
The online inventory display is updated every 4 hours. If you wish to check the actual in store stock, please call 337-2681 or 1-800-295-BOOK (2665) during store hours.
*Please place your holiday gift orders by December 11th to ensure their timely arrival. Orders placed beyond that date for items that we do not have in stock are unlikely to reach completion before 12/25*