Grandma's Purse (Hardcover)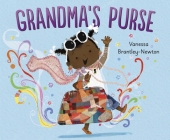 $17.99
Usually Ships in 1-5 Days
Description
---
Spend the day with a grandma and granddaughter in this charming picture book about the magic found in their favorite accessory, perfect for readers who love How to Babysit a Grandma! 

When Grandma Mimi comes to visit, she always brings warm hugs, sweet treats...and her purse. You never know what she'll have in there--fancy jewelry, tokens from around the world, or something special just for her granddaughter. It might look like a normal bag from the outside, but Mimi and her granddaughter know that it's pure magic!

In this adorable, energetic ode to visits from grandma, beloved picture book creator Vanessa Brantley Newton shows how an ordinary day can become extraordinary.

An Indie Next List selection
A Chicago Public Library Best of the Year selection

"Brims with adorable small stuff to look at. No illustrator does clothes, decor, and style better than Brantley-Newton."-the New York Times

"Brantley-Newton creates a whimsical interplay of patterns, rich color, and her trademark lively expressions--a beautiful visual melange. The magic of grandparents is undeniable, and this book is an excellent treat for grandkids to share with their own grandmas and grandpas, or the other way around."-Kirkus

"A heartfelt homage to brown girls and their wonder-inducing grandmothers."-Horn Book
About the Author
---
Vanessa Brantley-Newton is a self-taught illustrator, doll maker, and crafter who studied fashion illustration at FIT and children's book illustration at the School of Visual Arts in New York. She is the author and illustrator of Let Freedom Sing and Don't Let Auntie Mabel Bless the Table and has illustrated numerous children's books including Sewing Stories by Barbara Herkert, Mary Had A Little Glam by Tammi Sauer, One Love and Every Little Thing, words by Bob & Cedella Marley, and Presenting Tallulah by Tori Spelling. Vanessa currently makes her nest in Charlotte, North Carolina with her husband, daughter, and a very rambunctious cat named Stripes. Learn more about Vanessa and her artwork at VanessaBrantleyNewton.com and on Facebook.
Praise For…
---
An Indie Next List selection

"Brims with adorable small stuff to look at. No illustrator does clothes, decor, and style better than Brantley-Newton."—the New York Times

"Brantley-Newton creates a whimsical interplay of patterns, rich color, and her trademark lively expressions--a beautiful visual mélange. The magic of grandparents is undeniable, and this book is an excellent treat for grandkids to share with their own grandmas and grandpas, or the other way around."—Kirkus

"Brantley-Newton's vividly colorful images paint the happiness the little girl feels in her grandmother's presence. A strong intergenerational choice for any picture book collection."—SLJ

"An exuberant melange of brightly colored, cheerful images, perfectly matched to the cheerful tone of the intergenerational story."—Booklist

"A heartfelt homage to brown girls and their wonder-inducing grandmothers."—Horn Book
STOCK AVAILABILITY
Please note that the website database does not necessarily reflect the in store availability. If you wish to check actual in store stock, please call 337-2681 or 1-800-295-BOOK (2665) during store hours.