Begin with a Bee (Hardcover)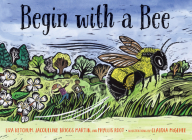 Description
---
A Chicago Public Library's Best Informational Books for Younger Readers selection

Begin with a Bee and its story of the life of one queen bee, a rusty-patched bumblebee, teaches us not only about bees but also about our own responsibilities in the natural world
By looking closely at the life cycle of one bee, Begin with a Bee helps readers of all ages understand and appreciate the contributions and significance of all bees. The life cycle of the rusty-patched bumblebee is a tale of wonder, the adventure of one queen bee who carries an entire colony of bees inside her tiny body. Her story begins in the spring when she emerges from a hole in the ground to search for pollen. She finds a nest, "underground best," lays a few eggs, and seals them in pollen. All summer this single queen lays more eggs, and more worker bees hatch. They gather pollen and maintain the colony until next year's queen hatches in the fall.
The queen bee's life unfolds through Claudia McGehee's captivating illustrations. The authors—three beloved and prolific writers of award-winning children's books—impart the poetry and basic science of the rusty-patched bumblebee, the first bee to appear on the U.S. Fish and Wildlife Endangered Species list. 
Extensive commentary at the end of the book offers suggestions for being a friend to bees as well as a good citizen of the natural world. It also introduces the native plants that bumblebees need for survival. Begin with a Bee might inspire a child (or any of us) to seek out, identify, even cultivate these essential flowers—and participate in the next chapter in the story of all bumblebees.
About the Author
---
Liza Ketchum is author of seventeen books for young people, including The Life Fantastic, a YA historical novel. She was a founding faculty member at Hamline University's MFA in Writing for Children and Young Adults Program, and her books have appeared on the ALA's Best Book lists and the New York Public Library's 100 Titles for Reading and Sharing. A citizen scientist volunteer, her articles about the natural world have appeared in newspapers and on public radio.
Jacqueline Briggs Martin is author of twenty-one picture books for children, including Snowflake Bentley, a Caldecott medal winner in 1999. Her books Creekfinding: A True Story, which received a Green Earth Award for Environmental Writing for Children and a Riverby Award for exceptional natural history books for young readers, and Bim, Bam, Bop . . . and Oona are published by University of Minnesota Press. In 2008 she received the Award for Excellence in Children's Literature from the Sterling North Society.
Phyllis Root has written more than fifty books for children, including, also from Minnesota, Big Belching Bog, Plant a Pocket of Prairie, One North Star, and The Lost Forest, which won a National Outdoor Book Award. She has twice won the Riverby Award. Aunt Nancy and Old Man Trouble won the Minnesota Book Award, Big Momma Makes the World won the Boston Globe Horn Book Award, and Lucia and the Light was awarded a McKnight Fellowship. She has also written Searching for Minnesota's Native Wildflowers: A Guide for Beginners, Botanists, and Everyone in Between (Minnesota, 2018).
Claudia McGehee is author/illustrator of eight picture books. She works in scratchboard, a unique medium that celebrates nature with lively, woodcut-like lines. Her historical fiction My Wilderness, an Alaskan Adventure (Iowa Author Award) and her illustrations for North Woods Girl (Midwest Booksellers Choice Award) by Aimee Bissonette both received honors from the Sigurd Olson Environmental Institute, and A Tallgrass Prairie Alphabet and A Woodland Counting Book received Moonbeam Gold and Midwest Booksellers Choice Awards. She also illustrated Creekfinding: A True Story by Jacqueline Briggs Martin (Minnesota, 2017). 
Praise For…
---
"The real queen in this colony is the striking artwork . . . Close-ups of the bees alternate with views of a lush countryside and its other denizens. It's an inviting book on any shelf, and the story is concise enough for longer storytimes. Educators, caregivers, and young readers will all be buzzing with delight. This book is the bee's knees."—Kirkus Reviews, starred review
"A handsome introduction to an endangered bumblebee."—Booklist
"Extraordinary book, with illustrations created in earth tones and similar to Mary Azarian's wood cuts, shows us exactly what the bees' life is like above and below ground. Three well-known authors give us the complete life history of this bee."—Youth Services Book Review
"Begin with a Bee by Liza Ketchum, Jacqueline Briggs Martin and Phyllis Root explores the life cycle and importance of the rusty patched bumble bee."—The Gazette
"If you don't love exploring and learning with your child, then this isn't the book for you. But if you are ready to dive down a rabbit hole (well, bee colony hole) of curiosity, then you'll want to pick it up for every nature lover and nature lover-to-be(e) in your life."—Little Village
"This involving picture book tells the story one little bee, whose 'tiny body (not even an inch) / holds everything she needs to create / a whole colony of bees.'"—Pioneer Press
"McGehee's Illustrations help us see the wonder of nature around us."—Iowa City Press-Citizen
"To educate a child about the importance of these pollinating insects and our own responsibilities in the natural world, there is no better book than Begin with a Bee."—Minnesota Alumni
"A gorgeous and informative look at the bee lifecycle."—Waking Brain Cells
"Wonderful reading, bringing memories, gardening lore, and scientific understanding to all who admiringly turn their pages."—Deerfield Valley News
"McGehee's wonderful woodcuts are bursting with the colors and movements of the meadow flora and fauna, yet also delicately detailed in portraying bee anatomy. "—The Horn Book Magazine
"Claudia McGehee's distinctive scratchboard illustrations provide a realistic picture of the lives of bees, without any anthropomorphism, as well as a strong sense of the natural world in which bees live. "—Cooperative Children's Book Center
"This well-written children's book, accompanied by beautiful illustrations, is a great source of education for all ages."—Northern Wilds
"Root, Ketchum, and Martin are veteran picture book writers, and they all worked together to create this gentle story of a queen bee, from the moment she wakes in the spring, to the moment she gives up her wee bee ghost, and beyond."—Book Riot
STOCK AVAILABILITY
The online inventory display is updated every 4 hours. If you wish to check the actual in store stock, please call 337-2681 or 1-800-295-BOOK (2665) during store hours.
*Please place your holiday gift orders by December 11th to ensure their timely arrival. Orders placed beyond that date for items that we do not have in stock are unlikely to reach completion before 12/25*