A Stone Sat Still: (Environmental and Nature Picture Book for Kids, Perspective Book for Preschool and Kindergarten, Award Winning Illustrator) (Hardcover)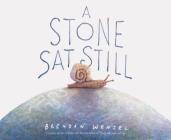 $17.99
Usually Ships in 1-5 Days
Description
---
The brilliant follow-up to the Caldecott Honor-winning and New York Times bestselling picture book They All Saw a Cat by Brendan Wenzel!

A Stone Sat Still tells the story of a seemingly ordinary rock—but to the animals that use it, it is a resting place, a kitchen, a safe haven...even an entire world.

This is a gorgeous exploration of perspective, perception, and the passage of time, with an underlying environmental message that is timely and poignant.

• Filled with stunning illustrations in cut paper, pencil, collage, and paint
• Soothing rhythms invite reading aloud and bedtime snuggles
• Introduces concepts like color, size, function, and time in a way that is easily understandable and teachable for children

With a rhythmic, calming narrative about the stone and its place in the world—and the changing environment—A Stone Sat Still proves Brendan Wenzel's mastery of the picture book form.

This modern children's classic will enchant readers in preschool and kindergarten, as well as the adults that read with them.

• A wonderful gift for teachers, librarians, and educators who are looking to teach difficult concepts like perspective and perception
• Perfect for parents and caregivers wanting to educate their kids about the environment, nature, and animals
• Great for fans of I Want My Hat Back by Jon Klassen, The Very Hungry Caterpillar by Eric Carle, and The Lorax by Dr. Seuss, as well as Wenzel's previous books They All Saw a Cat and Hello Hello
About the Author
---
Brendan Wenzel is a New York Times bestselling author and illustrator based in upstate New York. He wrote Hello Hello and They All Saw a Cat, which was the recipient of a Caldecott Honor. He is a proud collaborator with groups working to protect and conserve wild places and creatures.
Praise For…
---
"A powerful kaleidoscope of nature, A Stone Sat Still is stunning." - Shelf Awareness, starred review

"Wenzel scores another hit with this engaging and thought-provoking [book] . . . Stunning."— School Library Journal

"The wonderful mixed-media creatures and their encounters entertain, while bigger ideas suggest all kinds of conversations about perception and perspective, wildlife and habitat, local and global change, and eternity and evanescence." — Publishers Weekly, starred review

"The Caldecott Honor&ndashwinning author&ndashillustator of They All Saw a Cat is a master at transforming the quotidian into the incredible. His latest explores the boundlessness of a single stone's existence." — BookPage

"Profound and poetic." — The New York Times Book Review

"Awe-inspiring." — Booklist, starred review
STOCK AVAILABILITY
Please note that the website database does not necessarily reflect the in store availability. If you wish to check actual in store stock, please call 337-2681 or 1-800-295-BOOK (2665) during store hours.