Rabbit and the Motorbike: (Books about Friendship, Inspirational Books for Kids, Children's Adventure Books, Children's Emotion Books) (Hardcover)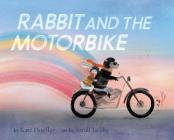 $17.99
Usually Ships in 1-5 Days
Description
---
★ "Exhilarating . . . Graceful text and evocative illustrations combine in this story about the rewards of facing fears and trying something new." — Kirkus Reviews, starred review

A timeless fable of the journey from grief to acceptance that will touch every reader: Rabbit isn''t sure he''ll ever be brave enough to go on an adventure. He''s a homebody who lives in a quiet field of wheat he dreams of leaving every night. His world is enlarged by his friend Dog and Dog''s tales of motorbike adventures. But one day, Dog is gone, and with him, go the stories Rabbit loves so much. Dare Rabbit pick up the motorbike and live his own story?

• A touching tale for those confronting loss and those who are eager to explore and experience the world around them
• Rabbit''s bravery in the face of sadness will console, nurture, and inspire young readers
• Author Sarah Jacoby grew up wandering the woods outside of Philadelphia. She now draws for many people and places, including the New York Times, and she is the author and illustrator of Forever or a Day
• Illustrator Kate Hoefler received her MFA in poetry from the University of Michigan, where she studied as a Colby Fellow. She is the author of Real Cowboys and Great Big Things

Fans of Hungry Jim and Most of the Better Natural Thing in the World will enjoy the touching and meaningful storyline in Rabbit and the Motorbike.

• Great read-aloud book for families/children experiencing loss or heartbreak
• Books for kids ages 3–5
• Children''s books for kindergarten–third grade
About the Author
---
Sarah Jacoby grew up wandering the woods outside of Philadelphia. She now draws for many people and places, including the New York Times, and she is the author and illustrator of Forever or a Day. She lives in Philadelphia.

Kate Hoefler received her MFA in poetry from the University of Michigan, where she studied as a Colby Fellow. She is the author of Real Cowboys and Great Big Things. She lives in a quiet village in Ohio where she can hear the distant sounds of the highway.
Praise For…
---
"A tender, breathtaking picture book that you'll read again and again."—A Best Children's Books of the Year, The Christian Science Monitor

"An appealing story about grief and acceptance. Recommended for public and school libraries as a tool for children who are experiencing grief. The tone is lighter than in many texts that deal with loss, and the book lends itself to discussion." —School Library Journal

"Exhilarating . . . Graceful text and evocative illustrations combine in this story about the rewards of facing fears and trying something new."—Kirkus Reviews, Starred Review

"Rich in metaphor without an ounce of heavy–handedness, this timeless fable should be left out for a little one to come to and
contemplate on their own, when the need arises."—Booklist, Starred Review
STOCK AVAILABILITY
Please note that the website database does not necessarily reflect the in store availability. If you wish to check actual in store stock, please call 337-2681 or 1-800-295-BOOK (2665) during store hours.