The Beautiful Mystery: A Chief Inspector Gamache Novel (CD-Audio)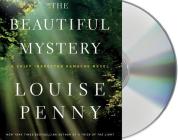 $39.99

Usually Ships in 1-5 Days
Other Books in Series
This is book number 8 in the Chief Inspector Gamache Novel series.
September 2012 Indie Next List
---
"In the eighth mystery in this popular series, Chief Inspector Gamache finds himself investigating a murder in a remote abbey in the wilds of the Canadian forest. The only clue appears to involve an ancient form of church music, the very earliest Gregorian chant. As usual, Penny's complex characters and their multidimensional relationships, as well as the unusual setting, make this a fascinating reading experience. Each book in the series is better than the one before."
— Anne McMahon, Boswell Book Company, Milwaukee, WI
Description
---
The brilliant novel in the New York Times bestselling series by Louise Penny, one of the most acclaimed crime writers of our time.

No outsiders are ever admitted to the monastery of Saint-Gilbert-Entre-les-Loups, hidden deep in the wilderness of Quebec, where two dozen cloistered monks live in peace and prayer. They grow vegetables, they tend chickens, they make chocolate. And they sing. Ironically, for a community that has taken a vow of silence, the monks have become world-famous for their glorious voices, raised in ancient chants whose effect on both singer and listener is so profound it is known as "the beautiful mystery."

But when the renowned choir director is murdered, the lock on the monastery's massive wooden door is drawn back to admit Chief Inspector Armand Gamache and Jean-Guy Beauvoir of the Sûreté du Québec. There they discover disquiet beneath the silence, discord in the apparent harmony. One of the brothers, in this life of prayer and contemplation, has been contemplating murder. As the peace of the monastery crumbles, Gamache is forced to confront some of his own demons, as well as those roaming the remote corridors. Before finding the killer, before restoring peace, the Chief must first consider the divine, the human, and the cracks in between.

The Beautiful Mystery is the winner of the 2012 Agatha Award for best novel, the 2013 Anthony Award for best novel and the 2013 Macavity Award for best novel.
About the Author
---
LOUISE PENNY is the author of the #1 New York Times, USA Today, and Globe and Mail bestselling series of Chief Inspector Armand Gamache novels, and coauthor with Hillary Rodham Clinton of the #1 New York Times bestselling thriller State of Terror. She has won numerous awards, including a CWA Dagger and the Agatha Award (seven times), and was a finalist for the Edgar Award for Best Novel. In 2017, she received the Order of Canada for her contributions to Canadian culture. Louise lives in a small village south of Montréal.

Ralph Cosham is best known as the voice behind all of Louise Penny's bestselling Chief Inspector Gamache novels. He won the 2013 Audie Award for Louise Penny's A Beautiful Mystery. He is a film, stage, and voice actor who narrated over 100 audiobooks, including Frankenstein, Around the World in Eighty Days, Alice in Wonderland, and Watership Down. His audiobook credits include works by C.S. Lewis, Simon Brett and C.S. Forester.  Several of his works have been awarded Audio Best of the Year by Publisher's Weekly.
Praise For…
---
"Ralph Cosham expertly presents Penny's writing, portraying Gamache's quietly thoughtful style and Beauvoir's earthy personality and giving each monk distinction and humanity…Quebecois accents and a sprinkling of French words flow seamlessly amid the story and add greatly to the listening pleasure." —AudioFile Magazine, Earphones Award Winner

"In measured, sonorous tones and an accent reflective of the French Canadian setting, Cosham conjures the disquieting atmosphere of an isolated Quebec monastery, where the choir director's murder invades the monks' silence and evokes the pervasive influence of their chants…Penny's gorgeous prose sings in Cosham's hypnotic performance and mirrors the chants, with phrases repeated for emphasis and intensity, creating a musical cadence. This is a superior production of serious multidimensional drama, breathtakingly performed." —Booklist, starred review

"Cosham's approach enhances the reverent tone while still plucking Penny's ripe humor from the vines that weave their way throughout the dark plot. Penny has a gift with dialogue, and Cosham makes that gift pop for the audience…there is no mystery about the allure of Louise Penny's series or the beauty with which Ralph Cosham continues to narrate it. This is a series that should be experienced at least once on audio, and THE BEAUTIFUL MYSTERY is the perfect choice." —Shelf Awareness

"Not enough praise can be accorded Ralph Cosham, who has served as the reader for all the audiobooks in this series. His voice is simply magnificent." —Newark Star-Ledger

"Penny's dark atmosphere and characters are as always masterfully interpreted by narrator Ralph Cosham in his excellent, beautifully paced, fully-voiced narration...Listeners will want the next, the ninth, volume in the series as soon as possible. Excellent as always with the brilliant combination of Cosham and Penny." —Sound Commentary

"This is much more than a whodunit; Penny renders her characters with real depth and puts them in an unusually intriguing setting and situation. And Ralph Cosham's excellent, empathetic narration enhances it all." —BookPage

"Narrator Ralph Cosham brings Penny's vivid descriptions and lyrical writing to life. His hypnotic voice and unhurried pace combine to draw the listener into the seemingly tranquil world of the monastery and its inhabitants. Cosham deftly handles the Quebecois accents and intricate plot twists, balancing the emotional tensions of this multilayered story." —Library Journal

"The narration is fantastic with the occasional French phrase flowing beautifully off the tongue of narrator Ralph Cosham." —Brookings Register Weekend

"Louise Penny has crafted an almost perfect crime--haunting, puzzling, brilliant and indeed a most beautiful mystery. Chief Inspector Gamache is one of my favorite characters in fiction. Here he must penetrate a cloistered monastery deep in the northern woods of Quebec, where a murdered monk is his ticket to get in. This is a tour-de-force for Penny, and a thrilling, intelligent read." —Linda Fairstein

"A. Ma. Zing! A remarkably courageous--and very beautiful--book that leaps the abyss between faith and despair." —Diana Gabaldon

"The superbly gifted Louise Penny is on my secret shortlist of must-read authors. A Trick of the Light will not only keep you engrossed from start to finish, it will teach you something new about love, truth, and the human heart." —Lisa Scottoline, author of Save Me on Louise Penny's A Trick of the Light

"Stellar. . . . Penny proves again that she is one of our finest writers." —People Magazine (4 out of 4 stars) on Louise Penny's A Trick of the Light

"Deceptively charming . . . delivering acute insights into the complicated motives of complex characters." —New York Times Book Review (one of the Notable Crime Books of 2011) on Louise Penny's A Trick of the Light

"Penny, elevating herself to the pantheon that houses P.D. James, Ruth Rendell and Minette Walters, demonstrates an exquisite touch with characterization, plotting and artistic sensitivity." —Kirkus Reviews (starred review) on Louise Penny's A Trick of the Light

"This is a beautiful book, gorgeously written and carefully constructed." —The Globe and Mail on Louise Penny's A Trick of the Light
STOCK AVAILABILITY
The online inventory display is updated every 4 hours. If you wish to check the actual in store stock, please call 337-2681 or 1-800-295-BOOK (2665) during store hours.