When You Can Swim (Hardcover)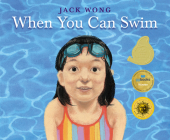 Description
---
A reverent celebration of learning to swim among a diverse cast of children and families who each experience the mysterious joys of water in nature. In this exploration of what it truly means to swim, expansive vignettes introduce sandpipers, tannin-soaked lakes, and the feeling of a small waterfall on sun-soaked shoulders. But what about those who are afraid of the water's mysterious ways and resist learning to swim? Painting a compelling picture of the many joys and surprises that the water holds, artist and author Jack Wong has delivered an empowering, poetic journey that invites children to discover their confidence within to receive the warmth and wonder of the natural world.
About the Author
---
JACK WONG has created a masterpiece drawn from his lived experience of growing up with a grandmother who spent her childhood in the rivers of Borneo and a mother — growing up in late 1950s China — who was forbidden to learn to swim. Born in Hong Kong and raised in Vancouver, Jack holds a Bachelor of Fine Arts from Nova Scotia College of Art and Design in Halifax, Canada, where he now lives with his wife and two cats.
Praise For…
---
Praise for When You Can Swim:
* "In visually inventive, lovingly finished pastel-and-watercolor spreads and sinuous lines of prose-poetry, debut author-illustrator Wong showcases myriad children encountering the joys of swimming...Such belonging is precisely the triumph that the story envisions, offering swimming's freedoms widely, and imagining the way that swimming can lend a feeling of autonomy and connection." -- Publishers Weekly, starred review
* "With endpapers that depict an Asian child gazing uncertainly at their own reflection in a pool, this book offers beginning swimmers both reassurance and compelling promises of adventure and discovery that will ensue "when you can swim."...The title is bound to inspire all swimmers to embrace nature, no matter where they are on their journey." -- Kirkus Reviews, starred review
* "Jack Wong's BREATHTAKING watery landscapes, strong currents surge beneath rushing waterfalls, and sunlight shimmers on ocean waves and the surface of a river. Text and illustrations merge SEAMLESSLY to illuminate the ways in which swimming animates all the senses, and Wong writes with BEGUILING LYRICISM…Wong's playful perspectives are CAPTIVATING..." -- BookPage, starred review
STOCK AVAILABILITY
If it says "On Our Shelves Now" below the "Add to Cart" button, we have it in stock. All other titles will have to be special ordered. The online inventory display is updated every 4 hours. If you wish to check the actual in store stock, please call 337-2681 or 1-800-295-BOOK (2665) during store hours.