Building Zaha: The Story of Architect Zaha Hadid (Hardcover)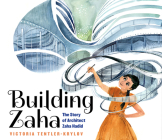 Description
---
An inspiring picture book biography about British Iraqi architect Zaha Hadid, who was a pioneer in her field against all odds, told by debut author-illustrator Victoria Tentler-Krylov.The city of Baghdad was full of thinkers, artists, and scientists, the littlest among them Zaha Hadid. Zaha knew from a young age that she wanted to be an architect. She set goals for herself and followed them against all odds. A woman in a man's world, and a person of color in a white field, Zaha was met with resistance at every turn. When critics called her a diva and claimed her ideas were unbuildable, she didn't let their judgments stop her from setting goals and achieving them one by one, finding innovative ways to build projects that became famous the world over. She persisted, she followed her dreams, and she succeeded.
About the Author
---
Debut author-illustrator Victoria Tentler-Krylov is herself a practicing architect. She says of her inspiration, "My art explores children's fantasies in a painterly way. And, much as children love to do, so my illustrations also tend to shift between the real and the imagined worlds." She lives in Boston. Visit her online at cargocollective.com/victoriakrylov.
Praise For…
---
Praise for Building Zaha:
* "With fittingly bold, whimsical, flowing illustrations, this picture-book biography showcases Iraqi British architect Zaha Hadid, who 'dreamed big and defied convention.' The illustrations exude energy and power [in this] stirring tribute to the 'first woman, first Iraqi, first Muslim, and youngest person ever' to win the Pritzker Prize, architecture's highest award."
-- Horn Book, starred review
* "As an architect, Tentler-Krylov brings an abundance of understanding to her subject's profession and the obstacles she faced. And by helping readers imagine the challenges of designing a building, she enables them to appreciate Hadid's process and achievements. Text and art work well together in portraying her forceful, flamboyant personality, her strong determination, and her brilliant architectural designs. With fluid lines and vibrant watercolor washes, the well-composed double-page scenes vividly illustrate Hadid's life and work. A memorable introduction to a visionary architect."
-- Booklist, starred review
"An inspiring story based on a dazzlingly influential life."
-- Kirkus Reviews
STOCK AVAILABILITY
The online inventory display is updated every 4 hours. If you wish to check the actual in store stock, please call 337-2681 or 1-800-295-BOOK (2665) during store hours.
*Please place your holiday gift orders by December 11th to ensure their timely arrival. Orders placed beyond that date for items that we do not have in stock are unlikely to reach completion before 12/25*