I Kissed Shara Wheeler: A Novel (CD-Audio)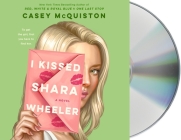 $44.99

Usually Ships in 1-5 Days
May/June 2022 Kids Indie Next List
---
"Casey McQuiston is at their absolute best in this charming YA caper. It's fun, queer, smart, and a perfect summer read. If you love scavenger hunts, runaway prom queens, Taco Bell, and young queer self-discovery, this is your book!"
— Julia DeVarti, Books Are Magic, Brooklyn, NY
Description
---
*INSTANT #1 NEW YORK TIMES BESTSELLER*
*INSTANT #1 INDIE BESTSELLER*
*INSTANT USA TODAY BESTSELLER*

From the New York Times bestselling author of One Last Stop and Red, White & Royal Blue comes a romantic comedy about chasing down what you want, only to find what you need...

Chloe Green is so close to winning. After her moms moved her from SoCal to Alabama for high school, she's spent the past four years dodging gossipy classmates and the puritanical administration of Willowgrove Christian Academy. The thing that's kept her going: winning valedictorian. Her only rival: prom queen Shara Wheeler, the principal's perfect progeny.

But a month before graduation, Shara kisses Chloe and vanishes.

On a furious hunt for answers, Chloe discovers she's not the only one Shara kissed. There's also Smith, Shara's longtime quarterback sweetheart, and Rory, Shara's bad boy neighbor with a crush. The three have nothing in common except Shara and the annoyingly cryptic notes she left behind, but together they must untangle Shara's trail of clues and find her. It'll be worth it, if Chloe can drag Shara back before graduation to beat her fair and square.

Thrown into an unlikely alliance, chasing a ghost through parties, break-ins, puzzles, and secrets revealed on monogrammed stationery, Chloe starts to suspect there might be more to this small town than she thought. And maybe—probably not, but maybe—more to Shara, too.

Fierce, funny, and frank, Casey McQuiston's I Kissed Shara Wheeler is about breaking the rules, getting messy, and finding love in unexpected places.

"An unfettered joy to read." - The New York Times
"McQuiston has done it again." - USA Today
"You won't want to miss." - Good Housekeeping

A Macmillan Audio production from Wednesday Books.

About the Author
---
CASEY MCQUISTON is the New York Times bestselling author of One Last Stop, Red, White & Royal Blue, and I Kissed Shara Wheeler, as well as a pie enthusiast. Born and raised in southern Louisiana, Casey now lives in New York City with Pepper, a poodle mix and semipro personal assistant.
Praise For…
---
Praise for I Kissed Shara Wheeler:

The #1 Spring 2022 Kids' Indie Next Pick
One of Publishers Weekly's Best Books of the Summer
A Good Housekeeping Book of the Month

"This one has it all: rivals who share a shocking kiss, a mysterious disappearance, an unexpected alliance and the kind of page-turning drama that makes McQuiston one of the best in the game. You won't want to miss this one." - Good Housekeeping

"Funny and compassionate." - Time

"An absolute must-read." - Book Riot, "10 Queer Romcoms That Will Make You Swoon"

"I Kissed Shara Wheeler is a love letter to all of us queer kids who were high schoolers in the '90s. Especially those of us who lived in small towns and whose social scenes revolved around Friday night football games and church on Sunday. [An] unexpected mystery and love story all in one." - Bust

Marie Claire, "2022 Book Releases to Get Excited About"

Parade, "32 Books We Can't Wait to Read in 2022" and "New Romance Novels You'll Love This Year"

PopSugar, "67 Books That Will Make Their Much-Anticipated Debut in 2022" and "These Are the Best YA Books of 2022"

Seventeen, "21 Books That Make LGBTQ+ Teens Feel Seen"

She Reads, "Best Romance Books Coming in 2022"

The Nerd Daily, "The Most Anticipated 2022 Book Releases" and "Must-Have 2022 Queer Book Releases"

The Washington Post, "10 upcoming releases by women and nonbinary authors", "Most Anticipated Young Adult Books"

Bookish, "24 Highly-Anticipated Books Hitting Shelves in 2022"

Book Riot, "15 WLW Romance Books like One Last Stop", "The Most Anticipated Books of 2022", "The 15 Best New Mystery Books of 2022", and "10 Books That Feel Like Wes Anderson Movies"

BuzzFeed, "The Most Highly Anticipated Books Of 2022", "40 More Highly Anticipated Young Adult Novels Releasing In 2022", and "44 New LGBTQA+ YA Novels You Need This Spring"

Bustle, "The Most Anticipated Books of 2022"

Insider, "The 21 Most Anticipated Books Coming Out This Spring" and "20 of the Most Anticipated Young Adult Books Coming Out This Spring"

Goodreads, "Goodreads Members' Most Anticipated Books of 2022", "The 68 Most Anticipated YA Novels of 2022", and "30 New and Upcoming Books Absolutely Everyone Wants to Read"

"Raise your hand if you've been personally victimized by this funny, weird, razor-sharp, intensely compassionate, subversive, sweet, electrifyingly romantic knockout of a book. Casey freaking McQuiston, you've done it again." - Becky Albertalli, New York Times bestselling author of Kate in Waiting and Simon vs. the Homo Sapiens Agenda

"Chosen family and LGBTQIA+ elders are given weight to the central romantic story lines in this thoughtful meditation on LGBTQIA+ identity, pride, popularity, academic success, jealousy, and idolization." - Booklist (starred review)

"I Kissed Shara Wheeler assures readers that although hurt is real, love is complicated and friends can let you down, the world is wide and nothing is impossible." - BookPage (starred review)

"I really can't wait for this one...I can already see [a] movie being made." - Betches

"Brimming with classic YA plotlines, crisp writing, humorous asides, and fully fleshed characters and relationships—many queer—keep things fresh, leading to a genuinely hopeful ending that centers themes of authenticity and autonomy. " - Publishers Weekly (starred review)

"...classic and familiar, and yet, something genuinely new and exciting all on its own...the perfect recipe whipped up into a movie-ready story." - Joey from Joey's Nook, Buzzfeed

"In every possible way, I Kissed Shara Wheeler is the perfect YA novel...If future YA novels read anything like I Kissed Shara Wheeler, I can assure you I will be reading them." - The Michigan Daily

Praise for One Last Stop:

"Absolutely brilliant." - The New York Times

"One Last Stop is an earnest reminder that home - whether that means a time, a place, or a person - is worth fighting for." - New York Magazine

"The story of August and Jane's chance meeting is swoony, thoughtful, and one of those big-hearted romances you'll gush about long after finishing." - Hello Sunshine

"This delightful love story is everything you need for a feel-good day of beach reading." - Elle

"Casey McQuiston has done it again." - Hypable

"One Last Stop is an electrifying romance that synapses into the dreamy "Hot Person Summer" kind of story you wish you were a part of. McQuiston is leading the charge for inclusive happy-ever-afters, radiant with joy and toe-curling passion, and bursting with the creative range to make anything from electricity to social activism sound sexy." - NPR

"A dazzling romance, filled with plenty of humor and heart." - Time

"A funny, modern, and entertaining novel, One Last Stop will have you rooting for love that makes people feel free to be their truest selves." - Shondaland


Praise for Red, White & Royal Blue:

"[An] exquisite debut... It's hard to watch [Alex] fall in love with Henry without falling in love a bit yourself with them, and with this brilliant, wonderful book." - The New York Times Book Review

"[A] fireworks in the sky, glitter in your hair joyous royal romance that you'll want to fall head over heels in love with again and again. A+" - Entertainment Weekly

"A rivalry between the son of a U.S. president and the Prince of Wales turns into a whirlwind romance in this charming story about true love." - Us Weekly

"[An] escapist masterpiece... It's a truly glorious thing to live inside the world of this book and to imagine it becoming reality, too." - Vogue

"The super specific love story you never knew you needed." - Cosmopolitan

"Effervescent and empowering on all levels, Red, White & Royal Blue is both a well-written love story and a celebration of identity. McQuiston may not be royal herself, but her novel reigns as must read rom-com." - NPR
STOCK AVAILABILITY
The online inventory display is updated every 4 hours. If you wish to check the actual in store stock, please call 337-2681 or 1-800-295-BOOK (2665) during store hours.