Viborita de Cascabel/Baby Rattlesnake (Paperback)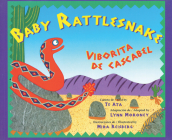 Description
---
Bilingual English/Spanish. A Native American (Pawnee) tale of family love and forgiveness.
Baby Rattlesnake wants a rattle like his older siblings have. His crying keeps the rattlesnake elders up all night so his parents give him a new rattle. Sure enough, he misuses his new rattle. When he tries to scare the chief's daughter, she steps on his rattle and crushes it. Sad and defeated, he returns to his forgiving family who give him big rattlesnake hugs.
About the Author
---
Te Ata, whose name means Bearer of the Morning, was an internationally acclaimed Chickasaw storyteller. Born in the Oklahoma Territory in 1897, she was proclaimed Oklahoma's first Oklahoma State Treasure. She regaled audiences in the US and Europe for over 65 years, performing at the White House during the Roosevelt Administration. She died in 1995. Lynn Moroney is a storyteller of Cherokee and Chickasaw background. Best known for her interpretation and retelling of Native American sky lore, her repertory includes star legends, sky myths, traditional folk tales, and teaching tales. Her career in storytelling includes workshops, residencies, and performances for universities, museums, schools, festivals, radio, and television. Mira Reisberg was born in Australia. A painter, graphic designer, and the illustrator of several books for children, Mira has also taught art to both children and adults. She holds a Master's in Fine Art and a PhD in Education with an emphasis on Cultural Studies and Art Education. She currently teaches in the Art Education program of Northern Illinois University, outside of Chicago.
STOCK AVAILABILITY
The online inventory display is updated every 4 hours. If you wish to check the actual in store stock, please call 337-2681 or 1-800-295-BOOK (2665) during store hours.