Cricket in the Thicket: Poems about Bugs (Hardcover)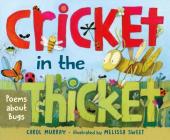 $17.99
Usually Ships in 1-5 Days
Description
---
A nonfiction picture book of poetry about fascinating insects with accompanying facts, notes, and illustrations by the Caldecott-winning Melissa Sweet.
Pray tell us, Mr. Mantis,
Do you pray or simply prey?
Do you scout about for victims
Or fold your hands all day?
In addition to the playful rhyming poems, the supplementary text highlights surprising facts about bugs of all kinds--from familiar ants to exotic dragonflies, cringe-worthy ticks and magnificent fireflies. Melissa Sweet's collage-inspired mixed-media illustrations beautifully render these creatures and compliment the poems' whimsical tones. This is an enchanting and informative look at a perennial topic of interest for kids--cool bugs
A Christy Ottaviano Book
About the Author
---
Carol Murray is a poet and the author of a number of books for young readers, including ABC Art Riddles. A former English and speech teacher, she lives in Kansas. Melissa Sweet is the award-winning illustrator of nearly 100 books for young readers. Her work has garnered many honors and awards, including two Caldecott Honor Medals and two New York Times Best Illustrated citations. She lives in Maine.
STOCK AVAILABILITY
Please note that the website database does not necessarily reflect the in store availability. If you wish to check actual in store stock, please call 337-2681 or 1-800-295-BOOK (2665) during store hours.