How to Say Hello to a Worm: A First Guide to Outside (Hardcover)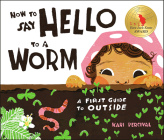 Description
---
Say "hello" to worms, dirt, peas, and more in this gentle how-to guide for connecting with nature.

The beautiful simplicity of a garden is depicted through digital woodcut illustrations and engaging nonfiction text presented as a series of sweet questions and gentle replies. Less of a traditional how-to and more of a how-to-appreciate, this soothingly sparse text paints an inviting and accessible picture of what a garden offers. And with an all-child cast, the absence of an adult presence empowers readers to view the garden and its creatures through their own eyes, driven by curiosity and wonder.

This delightful book embodies the magic of gardening and encourages all readers, from those who LOVE the outdoors to those with hesitation, to interact with nature at their own, comfortable pace.
About the Author
---
Kari Percival's illustration style is rooted in the woodcuts she's been carving and printing for more than two decades. Kari is a 2017 recipient of the New England SCBWI Four-by-Four Mentorship. She earned a BFA from the School of the Art Institute of Chicago and a Master's in Education and Environmental Science from Antioch University. Ecology has always been her favorite topic to teach, whether in the classroom or in the community garden. Kari lives with her husband and two children just outside Boston near a magical waterfall. On rainy days, she can be found rescuing earth worms out of puddles (because she just can't walk by when they are wiggling for help).
Praise For…
---
"In this deceptively simple, sparkling debut, Percival conveys the joy children can feel in working together, being outdoors, and eating food they've grown themselves—all with a fizzy immediacy." -- Publishers Weekly (STARRED REVIEW)


"This  gentle and engaging book for very young children captures the joy of connecting with nature and making things grow together." -- The Boston Globe


Dolly Parton's Imagination Library selected title (2023)
STOCK AVAILABILITY
The online inventory display is updated every 4 hours. If you wish to check the actual in store stock, please call 337-2681 or 1-800-295-BOOK (2665) during store hours.
*Please place your holiday gift orders by December 11th to ensure their timely arrival. Orders placed beyond that date for items that we do not have in stock are unlikely to reach completion before 12/25*