Waiting for Mama (Hardcover)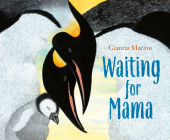 Description
---
New York Times bestselling illustrator Gianna Marino reveals the enduring importance of family in a picture book perfect for Mother's Day and Father's Day!

"When everyone is sleeping, all I can hear is Papa's heart. Boom-Boom-Boom. My papa loves me."

It's deep winter in the Antarctic and a little penguin baby waits in the cold and snow for its mama to return from her long journey to find food. But all the while, the baby is protected and kept warm by its papa, until Mama returns with food . . . and love.

With stunning illustrations and a spare but powerful story, Gianna Marino captures the icy beauty of Antarctica and the wonders of a penguin family that thrives there.
About the Author
---
Gianna Marino has written and illustrated many highly acclaimed picture books, including Don't Let Them Disappear by Chelsea Clinton. Gianna was born in San Francisco and spent her early years galloping horses through Golden Gate Park. She's made a living as an apprentice to a muralist, a jewelry designer, a product designer, and a horse-carriage driver. Addicted to foreign adventure, Gianna has traveled worldwide, including Europe, Asia, Australia, and Central and South America. Between explorations, she lives and works in Northern California and still gallops on horses. For more about Gianna and her books, visit giannamarino.com.
Praise For…
---
★ "Marino's gorgeous artwork is on full display in this sweet book narrated by a baby emperor penguin . . . perfect for repeated readings, one-on-one and during story time." --School Library Journal, starred review

"An emperor penguin chick narrates this educational polar tale, which showcases the heroic efforts undertaken by penguin parents—especially the intrepid females—to support their young. Anthropomorphic narration lends a tenderhearted feel to the scientific information communicated about penguin family dynamics." --Publishers Weekly
STOCK AVAILABILITY
If it says "On Our Shelves Now" below the "Add to Cart" button, we have it in stock. All other titles will have to be special ordered. The online inventory display is updated every 4 hours. If you wish to check the actual in store stock, please call 337-2681 or 1-800-295-BOOK (2665) during store hours.