Pup and Bear (Hardcover)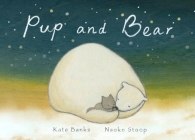 Description
---
This deeply emotional read-aloud about a lost wolf pup who is raised by a loving polar bear is sure to resonate with families – particularly non-traditional ones.

You are not my mother, said the wolf pup.
I am not your mother, said the polar bear, but I can cuddle you and keep you safe.

Here is a picture book that celebrates differences and promotes kindness , sure to resonate with the many fans of the beloved classic, Mama Do You Love Me? During the ice melt that follows an Arctic winter, a wolf cub finds himself spinning out to sea on a sheet of ice. He awakes lost and alone to an unfamiliar smell: a polar bear. And while the polar bear is not the wolf's mother, she takes him on her back to her den, where she feeds him, keeps him warm, and does everything a mother would do. Time passes, the cub grows into a wolf, and soon it's time for him to venture out into the wide world alone. Years later, the now grown wolf comes upon a tiny lost polar bear cub--and the cycle begins again. With poetic prose this beautiful picture book about the love and kindness of a stranger is sure to touch a deep chord, particularly with parents and children who have found each other in unexpected ways.
About the Author
---
Kate Banks in the author of many acclaimed books for children, including The Night Worker, a Charlotte Zolotow Award-winning book, and If the Moon Could Talk, winner of the Boston Globe-Horn Book Award for picture books. She of her best-loved titles include Max's Words, illustrated by Boris Kulikov, called "imaginative" in a starred review from School Library Journal; The Bear in the Book, illustrated by Georg Hallenslaben, called "enchanting" by the Wall Street Journal, and recipient of multiple starred reviews; City Cat, illustrated by Lauren Castillo; and many more. Visit her on the web at katebanksbooks.com or on Twitter @katebanksbooks.
 
Naoko Stoop is the self-taught illustrator of the New York Times Best Illustrated The Red Knit Cap Girl, the sequels Red Knit Cap Girl to the Rescue and Red Knit Cap Girl and the Reading Tree, and several other books for children. She has also recently signed on to illustrate an upcoming book by Mutts creator Patrick McDonnell. Visit her on the web at naokosstoop.blogspot.com or on Twitter @naokosstoop.
Praise For…
---
"Adults and children alike will want to return to this title about caretaking for reassurances of love in the present and promise for the future."—Bulletin starred review

"The lyrical writing makes this a wonderful read-aloud. This story of extraordinary kindness may also prompt a discussion of diverse families."—School Library Journal starred review

"...the subdued visual mood is a lovely match for Banks's unadorned prose, and the characters' relationship to the harsh landscape underscores their resilience."—Publishers Weekly starred review
STOCK AVAILABILITY
Please note that the website database does not necessarily reflect the in store availability. If you wish to check actual in store stock, please call 337-2681 or 1-800-295-BOOK (2665) during store hours.