The Octopus Scientists (Scientists in the Field) (Paperback)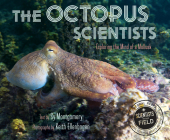 Description
---
Part of the award-winning Scientists in the Field series, The Octopus Scientists takes readers to the waters off of Moorea, Tahiti, to study the mind of the mollusk. Follow scientists as they uncover the secrets of its advanced intelligence and learn what these thinking, feeling creatures have to teach us about the oceans, its animals, and ourselves.
 
With three hearts and blue blood, its body unconstrained by jointed limbs or gravity, the octopus seems to be an inhabitant of another world. The octopus also has the powers of a superhero: it can shape shift, change color, squirt ink, pour itself through the tiniest of openings, or jet away through the sea faster than a swimmer.
Most intriguing of all, octopuses are remarkably intelligent. This book, an inquiry into the mind of an intelligent invertebrate, is also a foray into our unexplored planet. These thinking, feeling creatures can help readers experience and understand our world (or even life itself) in a new way.
About the Author
---
In addition to researching films, articles, and over twenty books, National Book Award finalist
Sy Montgomery
has been honored with a Sibert Medal, two Science Book and Film Prizes from the National Association for the Advancement of Science, three honorary degrees, and many other awards. She lives in Hancock, New Hampshire, with her husband, Howard Mansfield, and their border collie, Thurber.
Website: symontgomery.com
Twitter: @SyTheAuthor.     
Keith Ellenbogen is an award-winning underwater photographer with an emphasis on environmental conservation. His images have been published worldwide in newspapers, magazines, and books as well as on TV. He is a Senior Fellow with The International League of Conservation Photographers (iLCP), a Fellow with the Explorers Club, and an Assistant Professor of Photography at the Fashion Institute of Technology / SUNY.
Praise For…
---
* "Chapters of action, with smoothly integrated explanatory background, are interspersed with informative passages about octopuses, the field station, and coral reefs...Amazing photographs reveal the octopuses' remarkable shape-changing abilities and help readers visualize this experience. Science in the field at its best." —Kirkus, starred review * "Endlessly fascinating." —Booklist, starred review "Montgomery describes all aspects of life in the field, including the personalities and quirks of the scientists and the joys of working in a beautiful tropical locale. Abundant stunningly clear underwater photographs highlight the colorful details of a range of marine species." —Horn Book Magazine * "Through sharply crafted text, Montgomery shares her enthusiasm with readers, and Ellenbogen's vibrant color photos allow a crystalline window into a very special environment...Another enticing entry in a series devoted to highlighting enthusiastic scientists hard at work in the fields they love." —School Library Journal, starred review "The reliably informative and entertaining Montgomery is off on another Scientists in the Field adventure." —Bulletin   —
STOCK AVAILABILITY
The online inventory display is updated every 4 hours. If you wish to check the actual in store stock, please call 337-2681 or 1-800-295-BOOK (2665) during store hours.