The Littlest Train (Hardcover)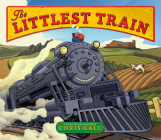 $17.99
Usually Ships in 1-5 Days
Description
---
In this endearing story of a tiny toy train, the creator of the hit series Dinotrux now breathes life into more than a half-dozen trains that climb, haul, chug, zip, and zoom.

In a small room, down a short flight of stairs, there lives a little toy train...about to have a BIG adventure! There's an endless world to explore, and awe-inspiring new friends to meet. Mighty Max, Chloe Cogs, Sara Speedster, and Farley Freighter can reach all the best sights, lickety-split. But when the day is done and the sun goes down, will the littlest train find his way home? Calling all train lovers: All aboard!




About the Author
---
Chris Gall is the award-winning author and illustrator of Dinotrux, a Publishers Weekly Best Children's Book which inspired a Netflix original TV series, and the other books in the series, including Dinotrux Dig the Beach and Revenge of the Dinotrux. His other picture books include Nanobots, Dog vs. Cat, Awesome Dawson, Substitute Creacher, and America the Beautiful, another Publisher's Weekly Best Children's Book. He lives in Tucson, Arizona.

Praise For…
---
Praise for The Littlest Train:


*"Boldly colored and textured with crisp, engraving-like lines, Gall's epic panoramas highlight the grand scale of the train's journey.... Train fans...will enjoy getting to know a new crew in this feast for the imagination."—Publishers Weekly, starred review


*"This well-plotted and suspenseful story of disruption, adventure, and hero's return will have massive appeal for all train lovers, as it showcases the steam locomotive, cog railway engine, bullet train, and freight train, not to mention a crowded switching yard. ... Being little has never been so grand."
—Booklist, starred review


"A perfect choice for storytime or one-on-one sharing."—School Library Journal


"Chris Gall combines the joy of toy trains with the muscular glamour of real ones.... Rich colors and clean, elegant illustrations add a touch of enchantment to this satisfying tale."
—The Wall Street Journal


"[A} colorful adventure."
—The New York Times

STOCK AVAILABILITY
Please note that the website database does not necessarily reflect the in store availability. If you wish to check actual in store stock, please call 337-2681 or 1-800-295-BOOK (2665) during store hours.