The Three Billy Goats Gruff (Hardcover)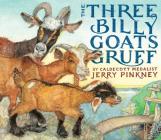 Description
---
A classic read-aloud favorite addressing bullying retold by acclaimed artist Jerry Pinkney.

Jerry Pinkney puts his indelible stamp on another beloved folktale in the same vein as the Caldecott Medal-winning The Lion & the Mouse and the highly acclaimed The Tortoise & the Hare and The Grasshopper & the Ants.

When the three billy goats Gruff are hungry, they see bountiful grass to eat across an old bridge. But the bridge is home to a terrible troll, who is peckish himself, and looking for a tasty morsel to gobble up. In his interpretation of the timeless tale, Jerry Pinkney shows there's little good to come from greed--but in the end, redemption for even the most trollish bully is possible. A dramatic gatefold heightens the climax of this brilliant rendition.

Don't miss these other classic retellings by Jerry Pinkney:
The Little Mermaid
The Lion & the Mouse
The Tortoise & the Hare
The Grasshopper & the Ants
Little Red Riding Hood
Twinkle, Twinkle, Little Star
About the Author
---
Jerry Pinkney is one of the most heralded children's book illustrators of all time. He has the rare distinction of being the recipient of five Caldecott Honors and the winner of the 2010 Caldecott medal for The Lion and the Mouse. He has published numerous reimagined classic tales, including The Little Mermaid, The Tortoise & the Hare, The Grasshopper & the Ants, The Three Billy Goats Gruff, Little Red Riding Hood, and Twinkle, Twinkle, Little Star. He has won the Coretta Scott King Award five times, the Coretta Scott King Honor four times, and has been nominated for the prestigious Hans Christian Anderson Award. He was also the first children's book illustrator elected to the American Academy of Arts and Sciences. He lives with his wife, author Gloria Jean Pinkney, in Croton-on-Hudson, New York. The artist invites you to visit his website at jerrypinkneystudio.com.
Praise For…
---
Praise for The Three Billy Goats Gruff:
A Publishers Weekly Best Summer Book of 2017 and Best Book of 2017 Pick
A News & Observer Wilde Award Book of 2017
School Library Journal Best Picture Books of 2017
Kirkus Best Picture Books of 2017


*"Pinkney's vivid watercolors are full of texture, and large double-page spreads showcase the lush landscapes...[a] beautiful, exciting, and memorable retelling."—Booklist, starred review

*"Pinkney's graceful note invites readers to ponder issues of forgiveness, redemption, and peaceful coexistence in a terrific tale well-suited to family and group read-alouds."—Kirkus Reviews, starred review

*"Pinkney brings a thoughtful, nuanced perspective to this classic tale....[that] helps readers see that cleverness, community, and confrontation all have a time and place in dealing with a bully."—School Library Journal, starred review

*"This version and its new conclusion are worth the wait....Pinkney is generous with his gifts; his paintings are splendid, nuanced, and unfailingly entertaining."
—Publishers Weekly, starred review

*"Gorgeously landscaped and entertaining...a sterling introduction to a classic for young kids--the human kind."—BCCB, starred review

"Witty, dramatic, and delightful. ...[A] terrific variation on a classic."—The Washington Post

"Beautiful illustrations fill the pages with Pinkney's signature visual style in this conversation-sparking picture book."
—Brightly.com

"Perfectly paced words and pictures."—The News & Observer

"The celebrated illustrator Jerry Pinkney has satisfied a long-held desire with The Three Billy Goats Gruff."—Wall Street Journal

"Brilliant."—The Children's Book Review

"Lively watercolors dramatize this classic, giving a modern sensibility about standing up to bullies and working together."—The San Francisco Chronicle

"A gorgeous addition [to Jerry Pinkney's series of folktales and fables], filled with Pinkney's distinctive paintings that swirl with color."
—The Virginian-Pilot

"This is certain to become a beloved book."—The Free-Lance Star

Praise for The Grasshopper & The Ants: A Bank Street College Distinguished Children's Book
*"Full-page vivid watercolor paintings bustling with natural activity and fanciful detail flow through the hues of the seasons, ending in the spare whiteness of winter....A lively and engaging version of a favorite Aesop fable."—School Library Journal, starred review

*"Pinkney suggests that the world is better when everyone can follow his or her own gifts."—Publishers Weekly, starred review

*"From an unparalleled artist, another brilliant work."—Kirkus Reviews, starred review

Praise for The Tortoise & the Hare:A 2014 ALSC Notable Children's BookA 2013 Publishers Weekly Best Children's BookA 2013 Kirkus Reviews Best Children's BookA 2013 School Library Journal Best Children's BookA 2013 Booklist Editors' Choice BookA 2013 ABC Best Book for ChildrenA 2013 Parents' Choice Awards Gold Award WinnerA 2013 Center for the Study of Multicultural Children's Literature Best Multicultural Children's BookAn Autumn 2013 Kids' Indie Next List PickA 2014 Children's Book Committee of Bank Street College Outstanding BookA 2014 Cooperative Children's Book Center at the University of Wisconsin-Madison CCBC Choices Book

* "[There is] a note of homespun vibrancy to Pinkney's elegant watercolor paintings.... The tortoise may have won the race, but the real winner here is the listening and viewing audience."—Booklist, starred review

* "Pinkney's magnificently illustrated version of this famous fable gives the race the excitement of an Olympic event."—Publishers Weekly, starred review

* "Will engross readers.... A captivating winner--start to finish."—Kirkus Reviews, starred review

* "Pinkney has again created a tour de force."—Library Media Connection, starred review

* "The anthropomorphism blends seamlessly with the naturalistic detail.... A lively and imaginative take."—The Bulletin, starred review

* "Pinkney enriches this classic tale of friendship with another universal theme - family - affectingly illustrated in several scenes as well as in the back endpapers... African species grace splendid panoramas that balance the many finely detailed, closeup images of the protagonists. Pinkney has no need for words; his art speaks eloquently for itself."—Publishers Weekly, starred review

* "A nearly wordless exploration of Aesop's fable of symbiotic mercy that is nothing short of masterful... Unimpeachable."—Kirkus Reviews, starred review

* "Pinkney's luminous art, rendered in watercolor and colored pencil, suggests a natural harmony... The ambiguity that results from the lack of words in this version allows for a slower, subtle, and ultimately more satisfying read. Moments of humor and affection complement the drama. A classic tale from a consummate artist."—School Library Journal, starred review

* "By retelling Aesop's fable entirely in his signature pencil and watercolor art, Pinkney encourages closer exploration of the pleasing detail with which he amplifies it... It will be a challenge for libraries to make every gorgeous surface available, but it's a challenge worth taking on."—The Horn Book, starred review

"Here, Pinkney is audacious, courageous, or simply imaginative enough to retell the classic Aesop fable without text... As a master of the media, [he] handles pencil and transparent watercolors with added colored pencils to create naturalistic characters while avoiding the strictures of photorealism. This is a stunning tour de force."—Children's Literature
STOCK AVAILABILITY
The online inventory display is updated every 4 hours. If you wish to check the actual in store stock, please call 337-2681 or 1-800-295-BOOK (2665) during store hours.