Puddle (Hardcover)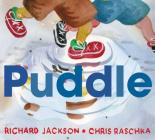 $17.99
Usually Ships in 1-5 Days
Description
---
A surprising, universal, and gorgeously illustrated story about self-acceptance, love, friendship, and the joy of embracing different perspectives, this beautiful picture book by acclaimed author Richard Jackson and two-time Caldecott Medalist Chris Raschka presents a puddle with a distinct point of view.
Puddle sits despondently in the playground, observing the world around her as she is dimpled by rain, splashed by shoes, piddled on by a poodle, bounced by a basketball, and stirred up by an inquisitive seagull. But when the sun makes a sudden appearance, Puddle meets an admiring new friend who lifts her spirits and makes her feel loved.
Richard Jackson's playful text shines with rhythm, repetition, and surprising turns of phrase, and Caldecott Medalist Chris Raschka's luminous paintings achieve the impossible—oh, sweet Puddle!
A memorable story of friendship, love, and changing your point of view.
About the Author
---
Richard Jackson
is an editor and author. He says: "
Akaraka
is a word in the Igbo language; a meaningful word to the Igbo-speaking people of southwestern Nigeria. It refers to marks on a person's hand that spell out that person's fate or destiny. At the time she  used it, in 1997, my granddaughter, Kelsey Albert, then three years old, couldn't have realized this. She liked the sound, as do I for this story, in which my role is played by her father. I am now a writer, not a raker. I've published seven books for young people, among them
This Beautiful Day
, illustrated by Suzy Lee, and
In Plain Sight
, which was illustrated by Jerry Pinkney and awarded a Coretta Scott King Honor for illustration."
Chris Raschka is the creator of many distinguished and award-winning books for children. He has received two Caldecott Medals: for The Hello, Goodbye Window, by Norton Juster, and for his own A Ball for Daisy. He also received a Caldecott Honor for Yo! Yes? Chris Raschka was the US nominee for the Hans Christian Andersen Award in 2012 and 2016 and has been awarded a New York Times Best Illustrated Book citation five times. He lives in New York City with his family.
Praise For…
---
"Complex and thoughtful. . . .Masterful watercolor and gouache illustrations. . .are enhanced by an effective book design and creative use of fonts. Vibrant, unusual, and beautiful, this deep Puddle 'is, indeed, a sight to see.'"
— ALA Booklist (starred review)

"A self-conscious puddle. . .finds purpose as she interacts with her environment and reflects the world's beauty while finding her own. . . .Expressionistic paintings, done in watercolor with gouache, play like music. . . .Luminous and lovely, with colors to fill the soul."
— Kirkus Reviews (starred review)

"In quirky verse with splashes of wordplay, Jackson gives voice to the emotional life of a sensitive puddle. . . .Raschka paints life at puddle level, observing its surface splashed by raindrops, disturbed by pedestrians, and illuminated by what's above it. . . .Jackson finds a new way to say that anxiety isn't fixed by worrying; instead, sometimes it changes into joy all on its own."
— Publishers Weekly

"The playfully lyrical text is enjoyably quirky with its hints of rhyme and musical repetitions. . . .Raschka's watercolor and gouache art suffuses the pages with soft, blurred color that contrasts with the more solid figures of animals and kids."
— Bulletin of the Center for Children's Books

"Jackson's lively and poetic text and Raschka's humor-filled paintings help children grasp the idea of empathy and perspective: even a puddle can have its own point of view."
— The Horn Book

"Raschka's signature nearly abstract gouache and watercolor illustrations transition from gray-blue to a slowly brightening wash of colors as the puddle transforms from despondent to elated, matching the tone of Jackson's jaunty rhyming text. A winsome and uplifting tale of an unusual protagonist."
— School Library Journal
STOCK AVAILABILITY
Please note that the website database does not necessarily reflect the in store availability. If you wish to check actual in store stock, please call 337-2681 or 1-800-295-BOOK (2665) during store hours.